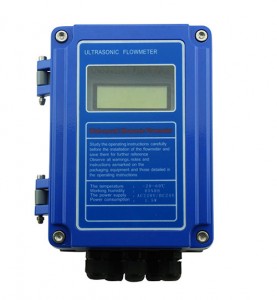 The wall mounted clamp on ultrasonic flowmeter belongs to range of fixed installing type flowmeters, as a good selling model,it has been carefully designed,so it provides abundant capabilities for accurate non invasive liquid flow measurement.
The wall mounted flowmeter can support clamp on transducers,insertion hot-tap transducers and inline transducers to different requirement.The flowmeter can be powered by wide AC and DC power.
With non-intrusive flow transducers, the clamp on ultrasonic flowmeter provides many good features:no need to cut pipe,no direct touch to liquid, no pressure drop, no moving parts, no risk of contamination, no risk of corrosion,and etc.
The wall mounted clamp on flowmeter also supports versatile signal outputs/inputs and communication protocol,which includes RS485,4-20mA(0-20mA), OCT pulse, relay signal, frequency, batch control, Modbus,M-bus,Hart,etc. With batch control, the clamp on flowmeters can be used for irrigation.
Meanwhile, we can also supply built-in data logger to the wall mounted flowmeter and the data logger can store large capacity data  from 1G to 8G.(default  is 4G).  Over 20 items data can be programmed in flowmeter to record in the data logger. The data is stored at TXT file in SD card and easily exported to PC by USB port. And TXT data can be easily processed by Excel or Users' program. With strong experience, we can supply large capacity serial port data logger for other application, the data logger can be RS232 data logger, RS485 data logger,USB data logger, TTL data logger,etc.
Features:
(1).Guaranteed lowest price on the market.
(2).High accuracy. Normally, ±1% When on-site calibration available, ±0.5%.
(3).Wide flow range 0.03 to 105ft/s.
(4).Wide pipe size range (from 1″ to 240″). PI type transducer can be made to measure the  min inner diameter of 2mm.
(5).Noninvasive. No pipe disturbance. No moving parts, no pressure drop.
(6).Easy and economical installation. No cutting pipe, non drilling hole.
(7).Suitable for all commonly used pipe materials
(8).Easy to use and set up. Self-explanatory menu programming
(9).Velocity, volumetric and totalized flow
(10).GPRS / GSM networking capability with certain model by signal output
(11).Ideal for both clean and opaque liquid flow measurements
(12).CE Approved
(12).Multi-protocols optional,e.g.Modbus(default),M-Bus,Hart,factory procotol,etc.
Specifications:
Main Unit specifications
Accuracy
Better than  ±1% of reading value
Repeatability
±0.2%
Velocity
±0.03 – ±105 ft/s (±0.01 – 32 m/s), bi-directional.
Response Time
0.5s (Collecting 128 groups of data each cycle)
Display
LCD with backlight.  2×20 letters.   Display instantaneous flow rate, accumulated flow rate (positive, negative and net rates), velocity, time, analog inputs, etc.
Units
English (U.S.) or metric
Signal Outputs
1).Current output: 4-20mA or 0-20mA. Impedance 600ohm(float blank), Accuracy 0.1%. Module optional.
2).OCT output:  frequency signal for instantaneous flow rate (0-9,999Hz selectable), Module optional.
3.Relay pulse output: pulse signal for accumulated flow rate (positive, negative and net rates);double channel OCT output (pules width of one channel is 6-1000mS,programmable, the fault value is 200ms.
4.Sound alarm:double channel OCT output, 20 type of source signal available
5.digital port: Isolated RS485 SATA
Signal Inputs
1) 3 channel 4-20mA inputs (for signals such as temperature, pressure, liquid level, etc.,also as a digital port.)
2)2 channel 3-wire PT100 input can measure heater.
Recording
Automatically record the following information:
1) The totalizer data of the last 64 days / 64 months / 64 years;
2) The power time and corresponding flow rate of the last 64 times power on and off events;
3) Allow manual or automatic flow loss compensation;
4) The instrument working status of the last 64 days.
5) Programmable ration controller(control by external input signals or MODBUS command.)
6)One bi-directional SATA port can connect a few external equipment,such as 4-20mA, data logger, printer,etc.
7)Working parameters can be solidified to flash memory, automatically call-out the stored parameters.
8)software updating by email
9)Error self-check,and timer for error time
Communication Interface
Isolated RS485 power surge protection, support MODBUS,MODBUS-ASCII is recommended. M-BUS
Enclosure
Protection Class:  IP65 (NEMA 4X) Explosive Proof Class: ExdIIBT4 (for model Abtds-100F2V only)
Transducer Cable
Shielded transducer cable. Standard length 15ft (5m). Can be extended to 1640ft (500m). Contact the manufacturer for longer cable requirement.
Cable should not be laid in parallel with high-voltage power lines, neither should it be close to strong interference source such as power transformers
Liquid Specifications
| | |
| --- | --- |
| Liquid Types | Virtually all commonly used liquids (full pipe) |
| Liquid Temp | 0˚C – 150˚C |
| Suspension concentration | < 20,000ppm and small air bubble concentration |
Pipe Specifications
| | |
| --- | --- |
| Pipe Size | 1″ – 240″(25mm-6000mm) |
| Pipe Material | All metals, most plastics, fiber glass, etc.  Allow pipe liner. |
| Pipe Straight Section Length | Better longer than 15D, where D is pipe diameter. If a pump is near, the straight pipe section following the pumps should be > 30D. |
Others
| | |
| --- | --- |
| Main unit temp. | 0˚F – 176˚F (-10˚C – 70˚C) |
| Humidity | Main unit: 85% RH. Transducer: water-immersible, water depth less than 10' (3m) |
| Power | AC: 85-264V/ DC24V |
| Weight | 5lb (2.5kg) |
Clamp on Ultrasonic Flow Transducers as below:
Standard  Clamp-on S1 for small size pipes
Magnetic with clamp-on fixture
Temp.: 0˚C- 70˚C
Protection class: IP68
For pipe size: DN15-DN100mm
Standard  Clamp-on Type M1 for medium size pipes
(magnetic with clamp-on fixture)
Temp.: 0˚C- 70˚C
Protection class: IP68
For pipe size: DN50-DN700mm
Stardard  Clamp-on  L1 for large size pipes
Temp.: 0˚C- 70˚C
Protection class: IP68
For pipe size: DN300-DN6000mm
High temperature small transducer—-standard S1H
Temp.: 0˚C- 155˚C
Protection class: IP68
For pipe size: DN15-DN100mm
High temperature medium transducer—standard M1H
Temp.: 0˚C- 155˚C
Protection class: IP68
or pipe size: DN50-DN700mm
The factory default configuration is wall mounted unit+medium transducers+2*5m cable.