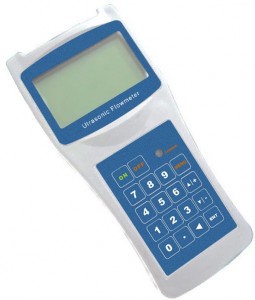 English version data logger software is available. The data is stored on built-in data logger of handheld flowmeter, and the software can download the data to PC and then exports them as Excel spreadsheet formation.
Now the language version mainly include Chinese,English,French,Portuguese,Italian,etc. If need special language,please indicate it while order,otherwise the goods will be sent at random.
Features:
(1). High accuracy. ±1%
(2). Wide pipe size range (3/4″~240″)
(3). Suitable for all commonly used pipe materials
(4). Wide flow range (0.03~105ft/s), bi-directional
(5). Easy and low-cost installation. No need for hole drilling, pipe cutting, etc.
(6). Non-intrusive. No pressure drop, no pipe disturbance
(7). Low maintenance
(8). Signal quality tracking and self-adaptation to match pipe and fluid variations
(9). Rechargeable battery for 10 hours of operation.
(10). Built-in data logger
(11). Self-explanatory user interface. Easy to operate
(12). Can be deployed as a remote RTU as well
(13). Light weight (main unit 1.2lbs). Real handheld type.
(14). Ideal for clean and opaque liquid flow
Description:
Handheld ultrasonic flow meter also belongs to a kind of portable ultrasonic flowmeter and can provide abundant capabilities for accurate liquid flow measurement. The utilization of proprietary ultrasound transmission / receiving, transit-time measurement and ultrasonic signal processing technologies allows our flow meter to measure liquid flow rate from outside of a pipe reliably and accurately.
The handheld ultrasonic flow meter is carefully designed so that its user-interfaces are self-explanatory and the instrument is very easy to operate. The unique clamp-on fixture design makes the installation very simple and no special skills or tools required. Due to the non-intrusive nature of the clamp-on technique, there is no pressure drop, no moving parts, no leaks, no risk of contamination, no risk of corrosion, not pressure dependent, and etc.
The handheld  ultrasonic flow meter is ideal for general flow survey, HVAC hydroponic balancing / testing, energy consumption supervision, water conservation management, beverage and food processing, chemical process monitoring, power plant monitoring, and other closed-pipe applications where non-intrusive measurement is required. Benefited from our advanced digital signal processing technology, the handheld ultrasonic flowmeter works reliably in both clean and opaque liquid flow. Examples of liquids include but not limited to variety of water (hot/chilled water, city water, sea water), sewage and drain water, oil (crude / diesel / fuel), chemicals (alcohol, acids, etc.),  beverage, food, water/glycol solutions, and other liquids.
Specifications:
| | |
| --- | --- |
| Linearity | better than 0.5% |
| Accuracy | ±1% |
| Response Time | 0-999 seconds, user-configurable |
| Velocity | ±0.03 – ±52 ft/s (±0.01 – ±16 m/s), bi-directional |
| Pipe Size | 3/4″ – 240″ (DN20mm – DN6,000mm) |
| Pipe Material | All metals, most plastics,  lined pipe |
| Totalizer | Three 7-digit totals for net, positive and negative flow respectively |
| Liquid Types | Virtually all clean liquids and liquids with minor solids(<10,000ppm). Full pipe |
| Units | English (U.S.) or other international metric units |
| Liquid Temp | 32˚F – 212˚F (0˚C – 100˚C) or 32˚F – 312˚F (0˚C – 150˚C),depending on different transducer type. |
| Display | LCD with backlight,4×16 letters |
| Security | Setup values Modification Lockout. Access code needs unlocking |
| Output port and interface | 9-hole RS232C port with simple flowmeter protocol for PC connecting; One isolated OCT for frequency output and pulse output |
| Transducer Cable | Standard 2×15′ (2x5m).Longer is available upon request. |
| Transducers | Different type transducers optional. |
| Power Supply | 3 AAA Ni-H built-in batteries. When fully recharged it will last over 10 hours of operation. 100V-240VAC for the charger |
| Data Logger | Built-in data logger can store over 2000 lines of data |
| Housing Material | Aluminum alloy protective case. Suitable for normal and harsh environment |
| Case Size | 7.9″x3.6″x1.3″ (200mmx92mmx32mm) |
| Main Unit Weight | 1.2 lbs (538g) with batteries |
| Language | English,French,Spainish,Italian,etc |
Clamp on transducer options:
Standard Small Size S1-magentic
Temperature: 0-70 Deg C.
For pipe size: DN20-DN100mm
Standard Medium Size M1/M2-magentic
Temperature: 0-70 Deg C.
For pipe size: DN50-DN700mm
Standard Large Size L1 / L2
Temperature: 0-70 Deg C.
For pipe size: DN300-DN6000mm
Rack Medium Size HM (magnetic with mounting rack).
Temperature: 0-70 Deg C.
For pipe size: DN20-DN100mm
Rack Medium Size HM (magnetic with mounting rack).
Temperature: 0-70 Deg C.
For pipe size: DN50-DN700mm
High Temperature Small Size S1H
Temperature: 0-160 Deg C.
For pipe size: DN20-DN100mm
High Temperature Medium Size M1H/M2H
Temperature: 0-160 Deg C.
For pipe size: DN50-DN700mm