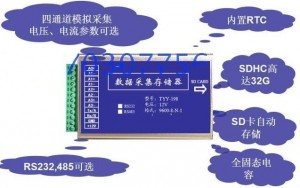 The voltage data logger can be also used as current data logger and 4-20ma data logger and is developed on the thought of paperless recorder, but comparing with paperless recorder, the data logger has compact size and higher cost-effective. The data loggers have 4 channels and can support analog current/voltage signal inputs of 0-5V,0-10V,-5-+5V,-10 -+10V, 0-20ma(4-20mA).  With function of automatic setting frequency, the data can be stored into SD card.
The voltage data logger is developed on 32 bit ARM technology and has built-in file creating system and real-time operation system, which can reach high-speed & reliable file management and communication control.
The data loger also has RS232 or RS485 port and can reach data visiting and system parameters design by standard Modbus protocol.
The paperless recorder has a wide application range and with its storing function, the paperless recorder can be used for  gathering and analysis of sytem test data and integrated the paperless recorder into your devices and make your devices have ability to SD card read&write function. The recorder is an useful tool for industry control, data gathering, data storing,  integrated system,etc.
Typicial Applicaiton
1.Data gathering of various sensors and transducers
2.Data storing of various devices
3. Recording and backup of important data
4. Real-time recording of important data
With the voltage data logger or current data logger, you can save a gather device and computer.
Technical Specification
1.4 nos channels analog current/voltage signal inputs
2.Power supply:DC12-32V,anti-reverse
3.Power consumption: Max 0.5W
4.Weight: 180g
5. Dimension: 102mm(L)x70mm(W)x22m(H)
6.SD card standard: Support SD and SDHC,Max support 32G. The default is 2G or 4G SD card.
7.File storing: Default *.TXT and can create other format
8.Communication: RS485 or RS232
9.Serial port: 2400-115200bps setting(Default: 9600,8-N-1)
10.Built-in clock: Built-in isolated RTC(provide timing function of serial port)
11.Protecting technology: 1500W lightning protection,surge prevention
Product Features:
1.Small size body, light weight, easy to use
2.Powerful function, big memory storing, supports FAT,FAT16,FAT32 file system
3.Support SDHC and SD can reach 32G, also support SD card with partial area
4.Read/write high speed, real-time operation system, ARM7 hardware platform
5. Open port,only use simple protocol, can  do complicated file operation
6. Industry class design. Alum alloy enclosure,solid and rugged. Wholy solid-static electric capcity, stable and reliable. TVS anti-reverse 600W. Lightning protection and surge prevention for power supply.
7.Support hot-plug of SD card. Need to reset while replace SD card.
8.Built-in high accuracy RTC and rechargeable button cell, Auto recharging. Time is not lose while power off.  With power recharging, built-in clock can stably work over 1 year.
9.Time-setting data gathering. The highest can reach 50times/second to gather and store.
10.Time-setting file creating and time can be set
11. An function optional to auto-add time stamp for storing data.