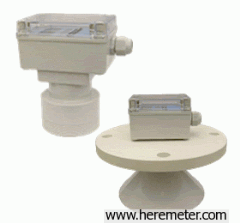 Ultrasonic Level meters
Ultrasonic level meter is used to measure the level and location of liquid and materia. The application condition should ensure the ultrasonic wave to travel to the occasion of measured liquid or material surface effectively.Ultrasonic level meter can be used in store pot,material trough, well,pond,measuring case,ditch,granary,material storehouse,warehouse,etc…
Technical Features:
1.Integrated design, simply installed.
2. The big display screen of LDC is easy to observe and debuy.
3.Overlaod protection for voltage and current. Lightning protection design.
4.2 wire system that ensures the strong sound save is transmitting, make the measurement reliable and steady
5.ABS enclosure, airproof and alkali-resisting,meet the request of abominable environment.
6.Intelligent signal processing technology makes the instruments can work well in various of application.
7.Flexible installing by flange or screw
Technical Specification
Accuracy: 0.25% Full Span(in air)
Blanking Distance: 3-5%(F.S.)
Resolution Ratio Shown:
Measuring range:4m 6m 8m,  it is 1mm
Measuring range:8m(A)  10m 15m 20m 30m,  it is 1cm
Display and keys: 4-digit number LCD, 3EA key
Current Output Selection:
2 Wire 4-20mA(Max. 500Ohm)
3 Wire 4-20mA(Max. 500Ohm)
4 Wire 4-20mA(Max. 500Ohm)
Output Resolution: Range*0.03%
Relay Output Standard: 5A*250VAC/30VDC
Meausrement Peiord: 1second
User pressure range:-0.1MPa to +0.1MPa
Tempreature range:
Sensor: -20 to +85 Degree C
Controller: -20 to +60 Degree C
Temperature Compensation: the whole range is automatic.
Ultrasonic Beam Angle: 5(3db), 8(3db)
Power Supply:
Integrated type:24VDC(80mA)
Separated type: 24VDC or 220VAC(50mA)
Electrical Connections: Cable grand PG13.5
Cable Diameter: 6-12mm
Single Wire Diameter:0.5-1.78mm
Protection Class: Sensor: IP68, Controller: IP65
Case Material: ABS
Sensor Material: PVC
Applications:
Water tank level measurement
Sewage disposal plant
Liquid storage tank level measurement
Beverage storage tank level measurement
Apart/Building water tank level measurement
Other level meter which can transmitt ultrasonic sound wave.