Pen size Vibration Meter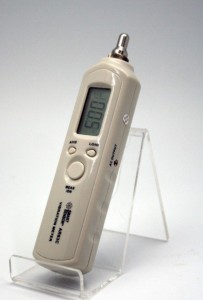 Pen size vibration meter is newly released vibration measurement product. The vibration meter has a higher stability,better repeatability and smaller size.It has beautiful designing and easily taking.
The pen size vibration meter introduces Piezoelectric Acceleration Transducer which can transfer the vibration signal in to electrical signal, and analyze the input signals, and show the Acceleration, speed, shift of the vibration.The vibration meter can be widely used in the lines of Power, petrochemical, machinery manufacturing, metallurgy, vehicles, etc.
Items

Technical Specification

Vibration Principle
Piezoelectric Ceramic Accelerometer(shear-type)
Acceleration Frequency Range
10HZ-1KHZ(LO)
1KHZ-15KHZ(HI)
Velocity Frequency Range
10HZ-1KHZ
Displacement Frequency Range
10HZ-1KHZ
Acceleration
0.1~199.9m/s2
Velocity
0.1~199.9m/s
Displacement
0.001~1.999mm
Accuracy
±5%H±2digits
Singnal Output
AC output
Auto Switch Range
Yes
Auto Power off
Yes
Backlight
Yes
Power
AAA*2 battery
Net Weight
60g
Dimension
150*40*20mm
Packing
Gift box
Nos per carton
40pcs
Carton Size
52*40*49cm
G.W. of one carton
15kgs