Mini Anemometer-801.802
Mini anemometer has a light compact design with low power consumption.Easy to take and can put it in pocket. A key operation,simple and quick operation.
Technical Specification
Sensor: Plastic fan blade and NTC temperature sensor
Working principle:Magnetic induction
Measuring parameters:M/S,KM/H,KNOTS,FPS,MPH
Measuring range: Wind velocity:0.6-20m/s
Temperature:-10 ~ 50 º C/-14 ~ 122º F
Resolution:+/-3% or +0.4m/s
+/-1 º C
Sampling period:0.5s
Environment temp.:-20 ~ 70 º C/-4 ~ 158º F
Shipping/storing temp.:-20 ~ 80 º C/-4 ~ 170º F
Power supply:3V,CR2032 battery
Battery life: 3 years (Backlight off)
Dimension:48.5*102*16.5mm
Weight:55g(including battery)
Max value displayed
Automatical power off
Backlight
Can measure wind-cold index number (Only 802)
Mini Anemometer 816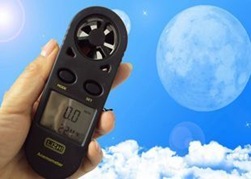 The mini anemometer is widely used for data collection of boiler, refrigeration, ventilation pipe, environmental monitoring, marine measurement and weather forecast, outdoor operation and fire department.
Technical Specification
Wind temp.range:-10º C~ 45º C
Wind speed range:0.3~ 30m/s
C/F temperature unti switching: Yes
Temp.accuracy:+/-2º C
Wind speed accuracy:+/-5%
Air Velocity Unit:   m/s,Ft/min,Knots,km/h,Mph
Average wind speed measuring    Yes
Max/Min wind speed measurin    Yes
Backlight Display    Yes
Low Battery Indication    Yes
Analog Quantity Display    Yes
Resolution    0.1m/s,0.2º C
Power: Battery CR2032 3.0V
Product Net Weight    52.1g
Product Size     105*40*15mm
Packing    Blister
Mini Anemometer 816A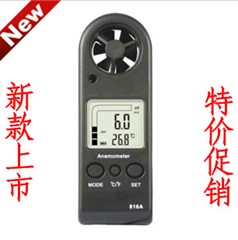 Technical Specification
Wind temp.range:-10º C~ 45º C
Wind speed range:0.3~ 30m/s
C/F temperature unti switching: Yes
Temp.accuracy:+/-2º C
Wind speed accuracy:+/-0.1 digit
Air Velocity Unit:   m/s,Ft/min,Knots,km/h,Mph
Average wind speed measuring    Yes
Max/Min wind speed measurin    Yes
Backlight Display    Yes
Low Battery Indication    Yes
Analog Quantity Display    Yes
Resolution    0.1m/s,0.2º C
Power: Battery CR2032 3.0V
Product Net Weight    53g
Product Size     113*40*15mm
Packing    Blister