Comparing with other often used instruments,e.g. temperture,pressure,level,etc, it is much more complicated to install and use flow meters rightly and properly. No matter whether it is international famous brand, there may be some important rules to follow,otherwise the flow meters won't work well.
The following story is from SIMENS transit-time ultrasonic flow meters which can't work well and some things have to be done to make them work well. As is known, SIMENS have been dealt with various of industry control products for many years and have gained plenty of their enthusiasm from many engineers. When they design their manufacturing system, several famous brands usually come into their brain at first if their budget is loose.  In this project, engineers of users have purchased ten sets of SIMENS ultrasonic flow meters out of good confidence and installed them for DN100 to DN400mm pipes. The detailed model of SIMENS meter is FST020 ultraosnic flow converter with D3 ultrasonic flow sensor.
In order to get good price, the users bought the flow meters from a reseller of SIMENS flow meters and they promised they could provide good after-service.But in fact, the reseller is just trader who was dealing with other instruments,but not good at flow meters.
After installing and input necessary parameters, the SIMENS ultrasonic flowmeters couldn't work well in an application and the reseller couldn't provide right and professional solution. So engineering department of the company faced big pressure from their company leaders as it might waste money and time. Meanwhile, part of manufacturing had been influenced which would cause much loss. In order to get professional help, their engineers had contacted us. As their engineers had contact us in the past, we tried to help them ASAP.  The following was brief information of the application:
In a DN400 pipe application, the clamp on flowmeter can't work well. After getting advice from us, the users rechecked it and found the reason was that the flowmeter was too near to the exit of the pump, then the signal of the ultrasonic flowmeter is interfered. Thus,following the technical suggestion,the clamp on flowmeter was adjusted to the position where was far from pump's exit. Then the flowmeter worked well.
But after 3 days normal working, the ultrasonic flowmeters were down again for 3 days and error indication was the signal was too weak (Vac19-21), then after another 3 days, the ultrasonic flow meters were back to normal status, but then didn't work well again after another 2-3 days.
In order to check whether it was problem of the ultrasonic flow meter, we suggest to try another set of  ultrasonic flow meter  to used on the test. After test, the same problem was still available. Users had to re-check the parameters setup and flow transducers' installing point, and also did low velocity cutoff setup and empty pipe set,but can't solve the problem yet.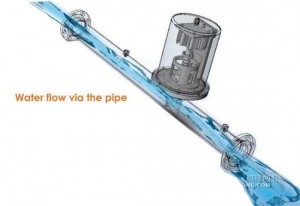 Later by checking the liquid status,our technician found bubble or particle size contained in the liquid were always various,and sometimes was small,and sometimes was big. If bubble or partial size was big enough, it would influence the performance of ultrasonic flow meters. For the problem, users could use  filters to eliminate the big bubble or particle before flow into the pipe test section. After did it as advice, everything was back to normal.
From the case, we can learn that two problems will make ultrasonic flowmeter work unstably. One is flow sensor installing point should enough distance to the exit of pump or valve,usually it is at 30D(here D is pipe diameter). The second is the size of fluid medium is very important. Comparing with other instruments, flow meters are very unique and each type of flow meters may have their own different features. It should be better for users to know flowmeters well before normal using.Meanwhile, the professional technical service is always very important.