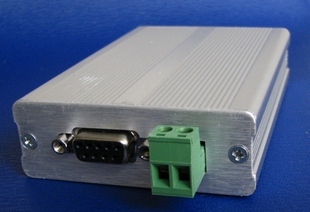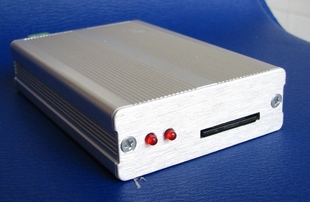 The RS232 data logger is an intelligent serial port data logger device which can be used for data gathering,data recording and data processing in flushbonading system and industry control. Only by serial port(RS232,RS485,etc),its data can be easily stored into SD for further processing.
The RS232  data logger provides transparent data transmission and no need other special protocol, only your device can support serial port or have been equipped with serial port, our RS232 data logger or other seirla port data logger can be used with your device. And we can change our to be integrated with your system if you have such request.
The serial port data logger has two kinds of work rule to follow as below:
1.Operate by command. After power, all data received will be analysed.If data meet communication protocol, it will operate the file as request of communication protocol. This method can be used for file reading,writing and modifying.
2.Direct storing. If data received can't meet communication protocol, the RS232 data logger will automatically store all of data to files created by system.
Technical Features:
1).TXT format to record data
2).SD card memory,Max 32G
3).USB port to connect with PC for data further process
4).File created automatically.
5).Storing file name can be user-defined which is suitable for data managing.
6).Can automatically create storing file at regular time.(The default is to create a new data storing file each 24h.
7).Easy and simple setting software
8).Provide simplified serial port command for customers' secondary developing
9).Push-push SIM base,stronger anti-knock functon.
10).Adapt industry class  high-performance processor. Stable performance and strong processing function.
11).Adapt unique dynamic RAM distributing method to improve data processing function
12).No need transmission protocol.Transparent data storing and convenient for using
Technical Spec.
1).Small size and light.Industry-class aluminium alloy enclosure,better protecting.
2).Support FAT16, FAT32 system
3).Support SD card with partition. Can support the Max 32G.
4).ARM hardware platform.Quick speed of reading and writing.
5).Support folder operation
6).Open connection port. Only use simple protocol to do more complicated file operation.
7).Power supply: DC7-36V. For lower power, it can be specially made as request.
8).Support hot plug-in. No need to reset while replacing SD card.
9)Super-speed parallel processing method. Make Max data processed can be over 10 per second.
Malfunction:
The data logger has two LEDS,
1.LED1 is power indicating light. It will always be light when Power ON. If it is not light,user should check whether negative and positive is polarity reversed
2.LED2 is system status light.
1)If SD card is bad or lack of SD card,LED will be ON for long. Power ON after checking SD card
2)Working status: Flash each 2S
3)When receiving command: flash quickly
3.Press button for 5 S,baud rate will be back to default of 9600.
Note: With RS232-RS485 converter, the RS232 data logger can be used as RS485 data logger.