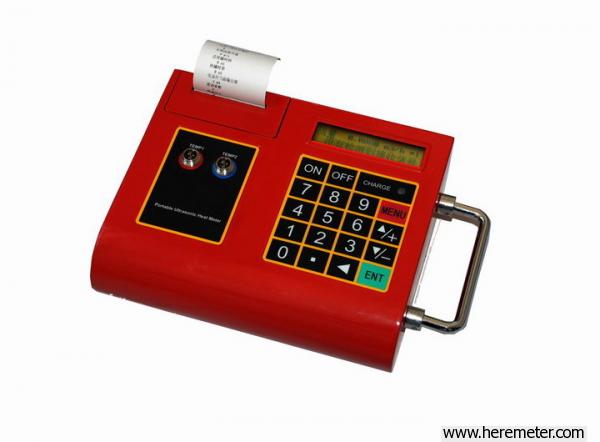 Descriptions

The portable ultrasonic heat meter provides abundant capabilities for accurate heat/cool/ flow measurement. The utilization of proprietary ultrasound transmission / receiving, transit-time measurement and ultrasonic signal processing technologies allows our heat  meter to measure liquid flow/heater rate from outside of a pipe reliably and accurately.
The portable heat meter is carefully designed so that its user-interfaces are self-explanatory and the instrument is very easy to operate. The unique clamp-on fixture design makes the installation very simple and no special skills or tools required.
Our portable ultrasonic heat meter is developed on the basis of our portable ultrasonic flow meter and equipped with clamp on flow transducers and clamp on temperature PT sensors, it can provide non-invasive measurement.With isolated two pins RS485+,RS485-, it can support Modbus protocol. Meanwhile, 4-20mA output is optional. The default is built-in mini thermo printer which is used to print local data at spot.If you doesn't requirement printer, you may select built-in SD data logger(2G-8G).
Features
(1) Can measure flow and energy
(2) Wide flow measurement range,from 0.01 to 12m/s
(3) Wide pipe size range, from 25mm to 6000mm
(4) Suitable for all commonly used pipe materials
(5) Rechargeable battery with 20 hours of operation
(6) Intelligent thermo printer inside, print data in time and on time
(7) Easy to use and setup. Self-explanatory  user menu programming
(8) No invasive. No pipe disturbance. No moving parts. No pressure drop.
(9) Velocity, volumetric and totalized flow
(10) Automatic Self-adjusting capabilities
(11) Idea for clean water and opaque liquid flows
(12) Easy and economic installation
Accuracy
Flow: 1% of reading.  Heat: 2% of reading
Velocity
0.01 to 12m/s, bi-directional
Weight
Main unit: 2.0kgs.The whole set weight will depend on the detailed configuration
Display/keypad
2 lines×20 character LDC with back-light. working temperature: -25~~60C4×4+2  push-button keypad
Measurement Period
0.5S.    Sample 128 groups each measurement period.
Units
English (U.S.) or metric
Transducers
Temperature
Standard type: 0-80CHigh temperature:0-160C
Output
Mini thermal printer with 24 lines character outputRS-485 interface for downloading updating software
Temp. transducers
3 wire PT100, Error<=0.1C
Liquid type
Water, sea water,industrial seawage, acid and alkali liquid, various oils etc. liquid which can transmit sound wave.
Power supply
Built-in rechargeable Ni-MH battery(for over 20 hours operation) or AC 220V
Housing
With a high strength carrying case suitable for normal and harsh environment
Application of Portable Ultrasonic Heat Meter:
Flow/heat/cool measurement for cooling water area
Flow/heat/cool measurement for heating water area
Flow/heat/cool measurement for heater interchanging
Flow/heat/cool measurement for refrigerator extracting water
Flow/heat/cool measurement for boiler extracting water
Cooling water source, alcohol, energy  monitor, energy consumption of house and energy-saving and emission-reduction etc, industries.