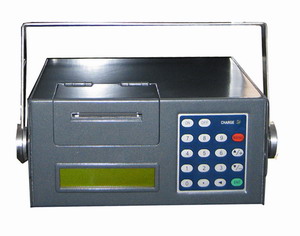 Portable ultrasonic flowmeter is carefully designed for flow check and flow survey easily with clamp-on transducers.The portable flowmeter can measure different flow test points at one time,and built-in rechargeable battery pack can support over 20 hours continuous working.With a built-in thermos printer,user can print the requested data conveniently at spot. The clamp-on installing transducers make the portable flowmeter easy to install transducers and no need special training and skills.Clamp-on flow transducers make no need to cut pipe and no risk of leakage,no pressure drop,no moving parts, no risk of corrosion,etc.
Portable ultrasonic flowmeter has been equipped with data logger which can store 8G data in TXT file. The TXT file can be easily downloaded to computer by USB port. TXT formation data is easily converted into Excel file for further processing.
Our standard portable flowmeter has RS485 port to support Modbus and M-bus protocol. With rugged enclosure and protection case, the portable ultrasonic flowmeter is an ideal tool for your accurate liquid flow measurement.
Features:
(1) High accuracy: ±1%
(2) Wide flow measurement range,from 0.01 to 32m/s
(3) Wide pipe size range, from 25mm to 6000mm
(4) Suitable for all commonly used pipe materials
(5) Rechargeable battery with 24 hours of operation
(6) Intelligent printer inside, print data in time and on time
(7) Easy to use and setup. Self-explanatory  user menu programming
(8) No invasive. No pipe disturbance. No moving parts. No pressure drop.
(9) Velocity, volume and totalized flow
(10) Automatic Self-adjusting capabilities
(11) Idea for clean water and opaque liquid flows
(12) Easy and economic installation
Specifications:
◆ Accuracy:  +/-1%
◆ Response Time: 0.5s
◆ Repeatability: 0.2%
◆ Velocity: ±0.01 to 32m/s, bi-directional
◆ Communication and output: Isolated RS-485,support MODBUS protocol; Built-in printer;
◆Pipe Range: DN25mmm~DN6000mm
◆Pipe Material: All metals, most plastics, concrete, lined pipe
◆Liquid types: Virtually all commonly used liquids (full pipe)
◆Suspension concentration < 10,000ppm and small or no air bubble concentration
◆Display: LCD with back-light, 2×10 characters
◆Humidity: Main unit: 85% RH
◆Cable: Shielded transducer(sensor) cable Standard length 5m. Max extended 500m
◆Good installation section selection: Better longer than 15 D. Here D is pipe diameter.
If a pump is near, the straight pipe section following the pumps should be >30D
◆Temperature of main unit: -10℃ – 70℃
◆Temperature of Transducer(sensor): 0℃- 160℃
◆Power Supply: Ni-H inside battery. When fully recharged, it will last over 20 hours of operation. Or 220Vac(standard),110Vac is optional.
◆ Case Size: 210mmx100mmx180mm
◆ Weight of main conversion unit: 2.5kg
◆Loop-powered 4-20mA output option(need to indicate while order)
◆Language: The current version has English,Italian and Chinese. Chinese version can be deleted for international trade.
Equipped with clamp on temperature sensors, our  portable ultrasonic flowmeter can be functioned as portable heat meters (BTU meters) for thermal energy measurement. If you have such request, please feel free to contact us.