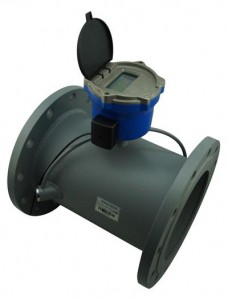 Applied with Euro standard of EN1413, battery powered ultrasonic water meter is a super low power consumption water meter with high-accuracy industry electronic parts equipped. It has many advantages such as: high accuracy, good reliability, no moving parts, no pressure drop, Low maintenance, etc. It is a excellent substitution of other water meters. With high quality parts and advanced technology, the ultrasonic flow meter has reached a very excellent performance.
Unlike mechanical water meters,the ultrasonic water meter has an outstanding long-term stability. There is no moving parts in its sensor, so its performance doesn't degrade over time,its overall system accuracy doesn't also degrade over time.
Features:
(1)    Measuring accuracy:  ±2% or 3% of reading value
(2)    No pressure loss and no moving parts, designed for no maintenance
(3)    Measuring pipe founded by mould, no discharging
(4)    IP68 protection class, workable under 2 meter depth of water
(5)    Low start-up flow rate, the lowest flow speed measured is 0.03m/s
(6)    High temperature resistant and abrasion resistant transducer,  working temperature -40℃~150℃
(7)    RS485 port, support MODBUS,M-BUS,etc
(8)    Integrated type and none integrated type
(9)    Ultrasonic time-difference principle
(11)    Measuring period: 10S
(12)    Power supply: battery powered and DC8-36V. Battery can work for 4-5 years.Battery is 3.6V/19AH(>=2.6V for normal work)
(13)    Horizontal display and Down-looking display
(14)     Integrated inversion and separating version
(15)   GSM remote data reading
(16)   Seperating version support  clamp-on type and insertion type transducers.
(17)   An ideal choice for installing place without external power source
Specifications
Item
Detailed parameter
Pipe Materia
Carbon Steel or stainless steel optional
Fluids measured
Water, sewage and other homogeneous fluids
Accuracy
 ±2% or ±3%  of reading value
Pipe Size
DN15mm-DN1000mm (Inline type transducers)DN80mm-DN800mm (Insertion type transducers)DN15mm-DN800mm (Clamp-on type transducers)
Max.Pressure
4.0MPa (DN15-DN40mm)
1.6MPa(DN50-DN450mm)
1.0MPa(DN500-DN600mm)
0.6MPa(DN700-DN1000mm)
Other pressure request, please inform in advance while order
Working Environment
Environmental temperature: -10~70℃.
Flow liquid temperature
-40~155℃
Output Signal (Selectable
OCT output;RS485 port support MODBUS, M-BUS;USART(TTL level) output;,GSM meter readings radio transmission;
Data Displayed
Instantaneously flow rate, m3/h Cumulative flow rate, m3 , Flow rate, power of battery, Signal intention, Signal quality, Date, Time
Data Storage
Storage of cumulative flow rate and cumulative effectively running time in EEPROM (Data can be saved for long term after power fail)
Power Supply
Powered by battery capable of sustaining a continuous meter operation for over 4-5 years with just need one lithium battery(3.6V/19AH)
Protection Class
IP68, workable below water
Measuring Cycle
10 seconds per time(Default)
Sampling times
64 groups(Default).32-128 groups optional
Other function
Automatically display common used result circularly
Cumulative unit 1、0.1、0.01、0.001、0.0001 m3 optional
Baud rate: 300、1200、2400、4800
Automatically record  the following information:
1) NEG/POS/NET totalizer of the last 512days/128months/10years
2)the time and corresponding flow rate of the last 30 times of power ON/OFF events. Allow manual and automatic flow loss compensation.
Programming functions
Unique patent designed circuit ensures water meter work well in execrable surrounding
**The new version battery powered unit can support clamp-on type sensors and insertion sensors.
DN80-DN800mm                          DN40-DN600mm
(Insertion type)                              (clamp-on type)