Ultrasonic thickness gauge uses advanced ultrasonic non-invasive technology for measuring wall thickness and checking corrosive and fault points of of metals and other material .
And the ultrasonic thickness gauge is a good helping hand for ultrasonic accurate flow measurement by measuring pipe wall thickness.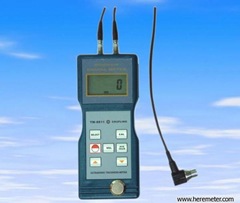 Model: 8811 Ultrasonic Thickness Gauge
Descriptions:
Measuring range (metric/imperial): 1.5-200mm,0.06-8inch
Operating principle: ULTROSONIC
Materials measured: any hard materials, including steel, cast iron, aluminum, red copper, brass, zinc, quartz glass, polyethylene, PVC, gray cast iron, nodular cast iron and other materials
Sound velocity: 500-9000m/s
Lower limit steel pipes: ф15×2.0mm, ф20×3.0mm determined by the transducer
Calibration block: included
Resolution: 0.1mm
Accuracy: ±(0.5%n+0.1)
Power supply: 4×1.5V AA(UM-3)battery
Battery indicator: low battery indicator
Operating conditions:0-+45℃(32℉-104℉),≤90%RH
Dimensions: 160x68x32mm
weight: 208g (not including battery)
Model: 8812 Ultrasonic Thickness Gauge
Technical data:
Measurement Range: 1.0~225mm/0.05~9inch.
Sensor Principle: Ultrasonic.
Sound Velocity Range: 500~9000 m/s.
Power: Battery powered.4x AAA batteries
Materials: Any hard materials including steel, cast iron,aluminium,red copper,brass,zinc,quartz glass,etc.
Resolution: 0.1
Calibration Block: Included.
Accuracy:– ±(0.5%n+0.1).
Weight:  164g(not including battery)
Dimensions:- 120x60x29mm
Note: 
1)Thickness meter 8811 can measure any hard material and thickness meter 8810 can only measure 11 kinds of material,so thickness meter 8810 is not recommended.
2)Thickness meter 8812 has RS232 port and software,so it can be communicated with PC.
3)The measuring range of 1-200mm is only for 45# steel. For other material,the range will depend on the detailed material hardness. For example, if PVC material, the Min value will be 20mm.
4)The serial ultrasonic thickness gauges can be used for measuring thickness of GRP (Glass Reinforced Plastic or Fiberglass).
5)The ultrasonic thickness gauges can test wall thickness of hard rubber,but can't for soft rubber,because soft rubber will absorb too much sound wave which can't produce valid ultrasound.